Quiz #1. Stella and Social Distancing
March 14, 2020, Steve's Stay-at-Home Coronavirus Quiz
Those of you who know me know that I like to write about my life in quiz form. The basic idea is to tell you, in great detail, about four things that did happen to me, my people and/or my pets. In addition, I also tell you about 1 thing which did not happen. Each of these five things is presented in a multiple-choice quiz--and the question is always the same: What did NOT happen? I like the format because in trying to figure out what did not happen, it really focuses attention on the incredible things that DID happen. With social distancing, I've got some more time on my hands, so I thought a few quiz questions would help pass the time (and help me record the day-to-day events of this pandemic).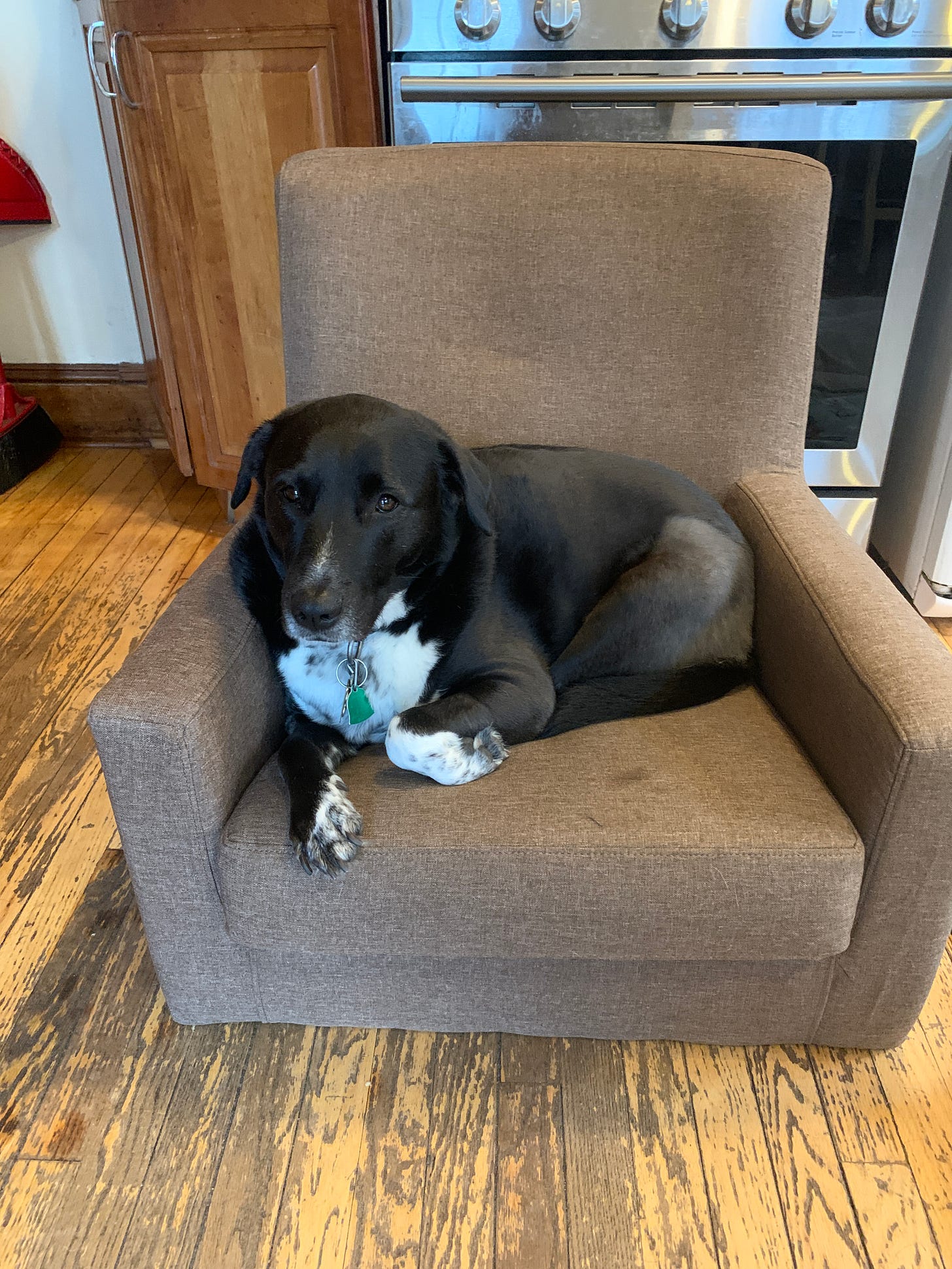 Let's start with this picture of Stella, one of our 2 (sometimes 4) dogs. (We also have Happy. Betsy, my daughter, also drops off Fred and Brownie, her dogs, every day while she teaches in Cranford so they don't have to spend all day alone in her apartment in Hoboken.) Five weeks ago on January 30th, Stella had surgery for a torn ACL. She's been our advance scout and role model for social distancing as we've had to keep her gated in the kitchen, away from the other dogs who might have licked her wound in the early days and gotten her to run around before her knee had fully healed. The vet had warned that she might get stir crazy, but it hasn't happened yet. She's come to own the kitchen and scowls at the other dogs to keep them from coming into the kitchen when the gate is open.
To keep her company, sometimes we bring a comfortable chair into the kitchen so we can sit and read with her. In the course of bringing in a chair last weekend, one of the twist-on legs of the chair (thank you, Wayfair) broke. We ordered a replacement chair (thank you, Wayfair and FedEx) and on Friday, I took it out of the box and put it together. We now had an extra chair--with no legs. I lifted it over the gate and into the kitchen, thinking I'd put it on the driveway to eventually throw it out. But before I could turn away, Stella made the small jump into the chair, claiming it as her own. I took a photo and texted it to Sara and Will with the caption, "The queen has a throne." (Sara and Will have not yet been told to work-from-home.)
---
What did NOT happen?
A. Will texted back, "lmao. And the doctors thought she would go stir crazy. I'm sure she sees it as a natural progression;"

B. Sara texted next, "Too funny. Maybe leave it there?"

C. After a brief pause, Sara added, "It's the broken chair, right?"

D. Showing rare restraint, I texted back, "Yes."

E. Several hours later, Sara texted, "I've been thinking about it. The chair has got to go. Things are crazy enough. I need my kitchen to be normal.
---
Want the answer?
Answer #1. Stella and Social Distancing
If you're a subscriber, the answer will be sent to you as a separate email when the question is published.
---
Want more?
Here's the next edition of the quiz: Quiz #2. March Sadness.
The quiz is explained here: Steve's Stay-at-Home Coronavirus Quiz.
Here is an archive of all the quizzes.
---
Thank you and good night.
Thanks for reading.
Concerns, corrections and comments welcome.
---