Thursday, April 2. This date has been marked on my calendar for almost a year now. The Phillies Home Opener--an event I've only missed twice in the last 30 years. Sadly, this year will be my third strike. Swing and a miss, you're out. No Opening Day. Not this April.
It's a small loss in a sea of sorrow, and surely there are more bone-crushing things coming at us every day. Nearly 7 million people are filing for unemployment and as many as 240,000 people may die--and that's only if we do everything right with social mitigation.
Still, for me, missing Opening Day is another sad milestone. For me, Opening Day is an event. A Spring holiday. The family knows that we leave on time--which is always early--with a stop at Nifty FIfties in Northeast Philadelphia on the way for take-out burgers, onion rings and milkshakes, ordered in advance when we cross over the bridge on the NJTP extension from NJ to Pennsylvania, 20 minutes from the restaurant and just enough time to have the order prepped and ready for our arrival. I even have my Opening Day outfit, red argyle pants given to me by a coworker, Angela, after the Vancouver Winter Olympics. (The brand of pants had been worn by the US Curling team.) At 6-foot-5, I always stand out in a crowd. The pants serve as an Opening Day exclamation point.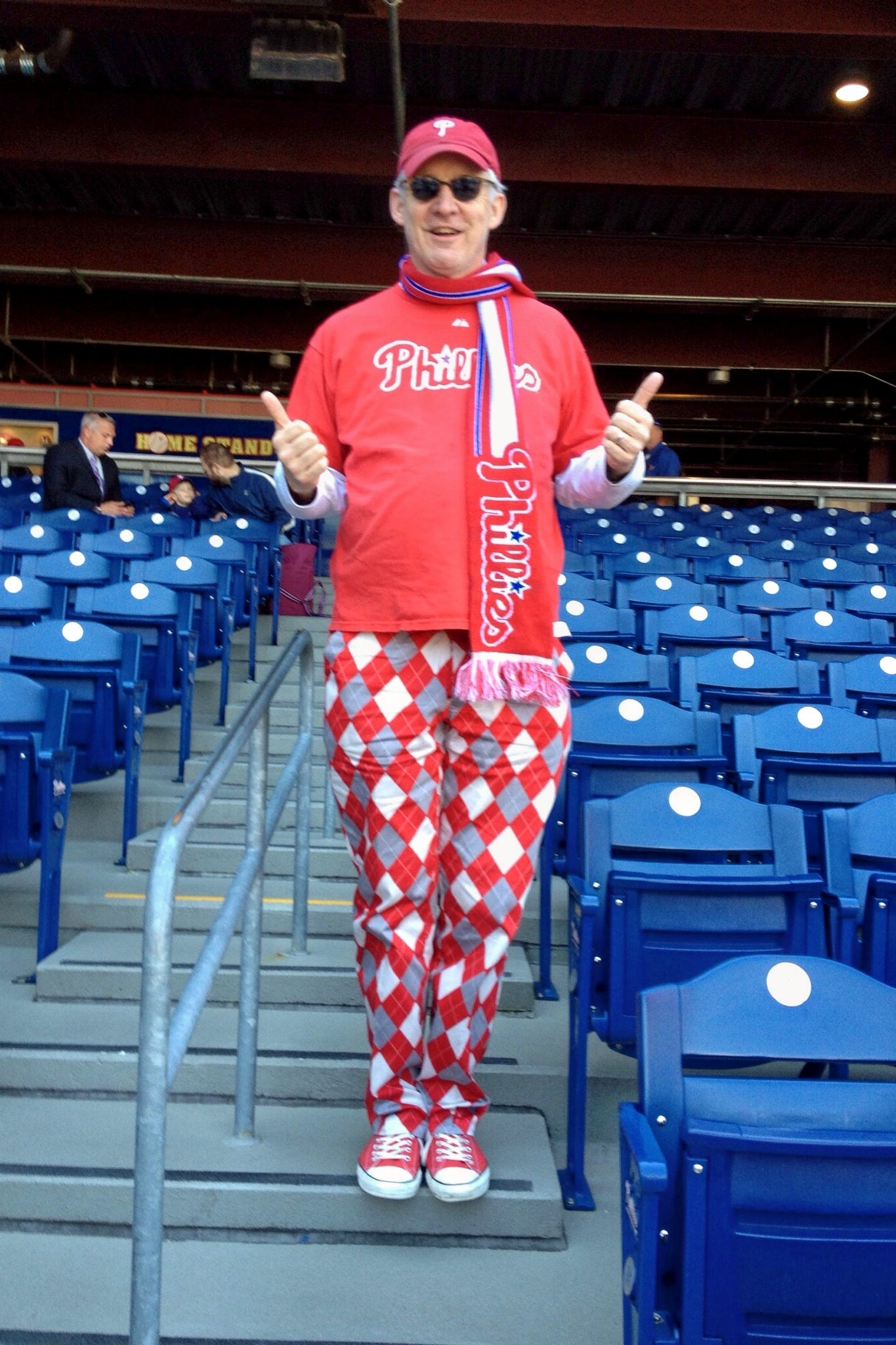 Months ago, I'd put in to take off today, but that's on hold. Everything's on hold. Still, no one in my family is infected with the coronavirus. Today, I am lucky, very lucky, to still be working--from home, in the afternoon/evening. It's also my Friday on the Sunday to Thursday shift.
Four weeks now into working from home, Sara and I have settled into a routine. I work until midnight or so in the guest room we've converted into my office. To wind down, I watch one old episode of Curb Your Enthusiasm. (Wednesday night was "Namaste" from Season 9. Larry goes to a hot yoga class for physical therapy, but he refuses to join the group in saying "Namaste" at the end of the class. As he gets up to leave, the yoga instructor reprimands him for not joining in. She explains that "'Namaste' means that the light within me greets the light that's within you." He responds, "That's the problem. There is no light inside me.")
WIth the coronavirus crisis, I can't sleep late--and I usually wake up between 5:00 and 6:30. This morning, I slept in, 6:33. We sleep with the dogs and when Happy sensed I was awake, she rolled over for her morning belly rub. I got up, went to the bathroom, and walked downstairs to take my temperature (normal again). I made my coffee, let Happy out and emptied the dishwasher.
By 7:30, Sara was awake. I've been working on not being too much (at least in the morning) so I gave her some space as she first woke up. Before coronavirus, I was usually alone in the morning so I didn't wear my hearing aids. It helps, in part, to tune out the world. With coronavirus, however, I wear them so that when Sara comes down, we can sit and talk before she heads to work and I head out to walk the dogs,
By 8:30am, Sara's working at the kitchen table and I'm back in my home office. With coronavirus, I've set aside the late-morning time to write that day's quiz. By noon, I'm done and, after lunch and a shower, I "report" to work at 1:30. I take a break after the evening news at 7:00 when Sara's made dinner. (I cooked dinner on the weekend nights last week.) Sara has an 8:00pm cut-off--no coronavirus conversations after 8:00pm. That's when she heads upstairs for TV time with the dogs and I head into my home office.
Before heading out for this morning's dog walk, I texted Annie as she headed into work on the subway to her job as a psychiatric social worker in NYC. This morning, I texted her "FTV," a reference to some subway graffiti she'd spotted a week ago which read "F*ck the virus."
She responded with yet another picture of new graffiti, beneath the question, "This is not life?" someone had scrawled, "What's the solution" I don't know.
My dog walk was bittersweet. We live near a school and I always walk the dogs across the large field at the back of the school. From a distance, I spotted a man on the otherwise deserted playground, It seemed odd from a distance. As I walked closer, it was even more disturbing. He was a school worker, putting up yellow "Caution" tape on every climbing toy in the playground. I knew why he was doing it--and it's absolutely necessary--but I could not help feeling what a profoundly painful message that's sending to any little kid. "Caution." No school--and no play.
I continued my dog walk and passed a house with artwork taped to the front door--from neighbors whose kids go to that school. The one drawing that caught my eye from the sidewalk read, "Everything will be OKAY!" I went up their front walk to take a closer look (and some pictures) when I noticed a second drawing. It read "Be You."
So, that's what I am doing. This quiz is my solution. Fewer and fewer people are filling out their answers to this quiz. I can't tell if that means they're not reading or if they simply don't have the emotional bandwidth left to join in and fill out the form to find the answer and offer their own thoughts. If you're reading along, I hope I've brightened your day. There are simply no words to express just how bad things are right now in the world--and they're going to get worse before they get better. You don't need me to tell you that. And yet, I will keep on highlighting the incredible things that keep happening to me every day. It helps me--and I hope it helps you.
What did NOT happen?
A. Having worked with him on various work projects, I'm friends with the Phillie Phanatic. Before sending out today's quiz, I sent a draft copy to him. He sent me an email back, "Be You! Love it! Don't know how, don't know when, but baseball will be back;"

B. In Wednesday's quiz, I discussed Understandably, a great daily newsletter from Bill Murphy Jr. I sent a copy of Wednesday's quiz to Murphy. He filled it out and we traded emails. He liked my work with Google forms and asked how I sent out the quiz;

C. Wednesday night, I looked into signing up for Substack, the email newsletter service that Murphy uses for Understandably;

D. This morning, I sent a DM to PJ Vogt, the co-host of the Reply All podcast, telling him that I'd discussed his fantastic podcast, "The Case of the MIssing Hit" in Sunday's quiz;

E. Sara has a quote of the day that she posts to the kitchen window above the sink. Today's quote reads, "Action binds anxiety." If you're feeling anxious--and who isn't these days--do something. Take concrete steps that are comfortable and routine. Return to your strengths. Be you.
---
Want the answer?
Answer #17. "Be You," April 2, 2020
If you subscribe to the quiz, the answer will be sent to you separately each day with each quiz.
---
Want more?
Here's the next quiz in the series: Quiz #18. Look Up.
Here's the previous quiz in the series: Quiz #16. Dumb Kids (April fools).
Here's the first quiz in the series: Quiz #1. Stella and Social Distancing, March 13, 2020
The quiz is explained here: Steve's Stay-at-Home Coronavirus Quiz.
Here is an archive of all the quizzes.
---
Want to let me know how I'm doing with this quiz?
Please let me know about any typos or misspellings.
Comments, corrections and confessions welcome.
---
Thank you and good night.
Thanks for reading.
Thanks for sharing.
Thanks for commenting.