Quiz #57. 1 in 12,766
The Beatles, catching for Tug McGraw and a bloodied knee. Musings about baseball in Steve's Stay-at-Home Coronavirus Quiz for May 22, 2020.
Here are three baseball stories as we head into Memorial Day and the start of what's going to be a Summer to remember--one way or another.
1. SHEA STADIUM, AUGUST, 1965
In Quiz #55. No Spitting, I posted a picture of me at Shea Stadium, former home of the New York Mets.  Many of those who know me may be surprised to discover that I grew up on Long Island as a die hard Mets fan.  My father, Bob Thode, worked for Kraftco at the time and they had a box right behind the Mets dugout. Before 1969, it was easy for him to get the box for a few weekend games each season. I went to a lot of Mets' games, but this is the only photo that I have.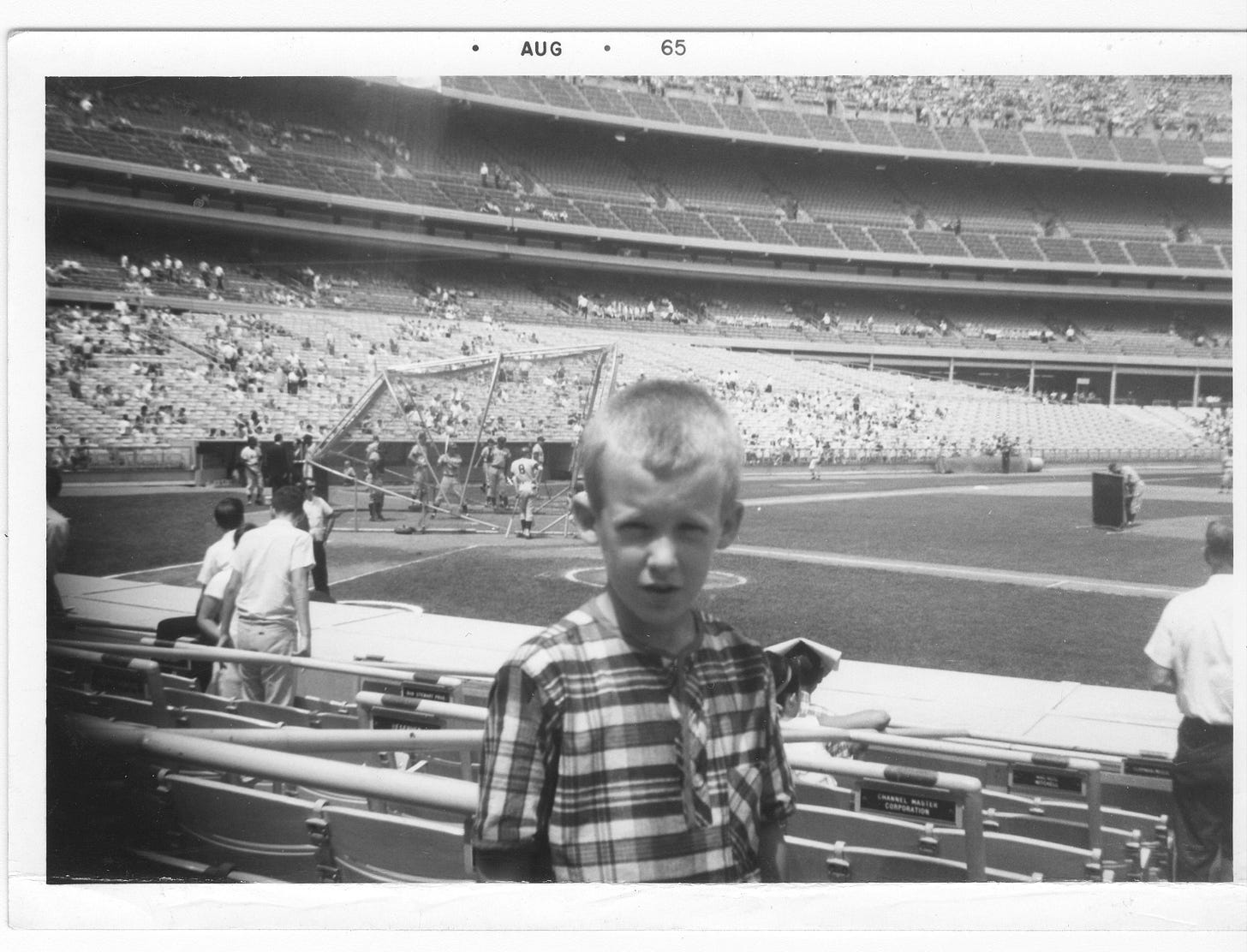 I have no memory of the game from the 1965 photo.  (I do remember the shirt I was wearing for reasons I cannot fathom.) My brother-in-law Larry is a baseball historian and when I spoke to my sister Ginny on Thursday, May 21st, she relayed that Larry wanted to know if I had remembered anything about the game from the 1965 photo.  I was no help, but Larry worked with me on the details in the photo to figure out when it was taken--and what had happened in the game that day, nearly 55 years ago.
The first clue is the August, 1965 date on the photo. Larry said the Mets played 3 teams during day games that month--the Cardinals, Giants and Cubs.  In the photo, an opposing player, #8, can be seen over my right shoulder waiting for his turn to hit in batting practice. 
Larry texted,
The Cards and Giants both have no #8 in '65, amazingly enough.  The Cubs had Vic Roznovsky (!) as #8 and he swings lefty.
Vic Roznovsky.  A catcher. He threw righty but hit lefty--so the fact that he's seen in the photo on the first base side of the batting cage further confirms it's Roznovksy and the Cubs. Again, Larry texted,
Saturday the 7th and Sunday the 8th were days.  Sunday was a DH. Roznovsky started the Saturday game and the second game of the twin bill.  Since there's no BP between games of the DH, my guess is you were there on Saturday, August 7th.  You and Bob were 2 of 12,766 at Shea.
He even sent along a link to the box score.  Roznovsky went 0-4 with a strikeout.  The Mets lost 7-1.  Galen Cisco was the losing pitcher.  I remembered Cisco's name.  His record at the time, 3-9.  The Mets finished the game at 34-76, their 110th game of the season.
Some fun facts and footnotes:
1965 was Roznovsky's best season, his second in the majors. He was traded from the Cubs and finished his MLB career in 1969 with--wait for it--my beloved Philadelphia Phillies.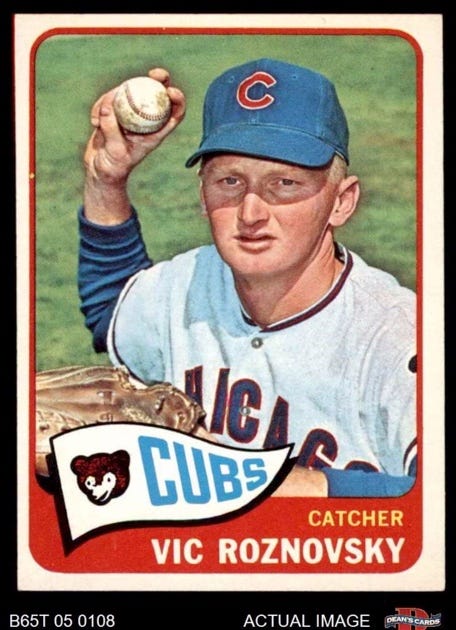 Per Wikipedia, Roznovsky is still alive.  He's 81 years old and went to high school in Shriner, Texas. I tried to find him there, but no luck (yet).

Larry informed me that one week later, on August 15, 1965,  the Beatles played their historic  concert at Shea Stadium.  There's a whole documentary about it--and even this short clip on YouTube is amazing.
The Beatles at Shea Stadium on August 15, 1965. (I missed them by a week.)
2. CLEARWATER, FLORIDA, MARCH, 1989
When I first started working in local television in Philadelphia in 1985, I was still a Mets fan.  As fate would have it, Tug McGraw and I started work at that TV station on the same day, July 22, 1985.  Tug was a member of the Miracle Mets, later famous for coining the phrase, "Ya Gotta Believe."  At the end of his career, Tug was traded to the Phillies and won a place in the hearts of every Phillies' fan by throwing the last pitch for the Phillies to win the World Series in 1980.
Tug and I became friends. Tug started out as a features reporter but then moved to sports reporting. In 1989, I was his producer for a series of reports we did from Spring Training in Clearwater, Florida.
At the end of one of our work days, Tug said he just had to pitch.  The players were showered and gone. Tug took off his shirt, we grabbed a ball and some gloves--and I caught Tug McGraw as he pitched.  I am forever grateful that photographer Bob McCune grabbed my camera (a Canon AE1) and took this photo.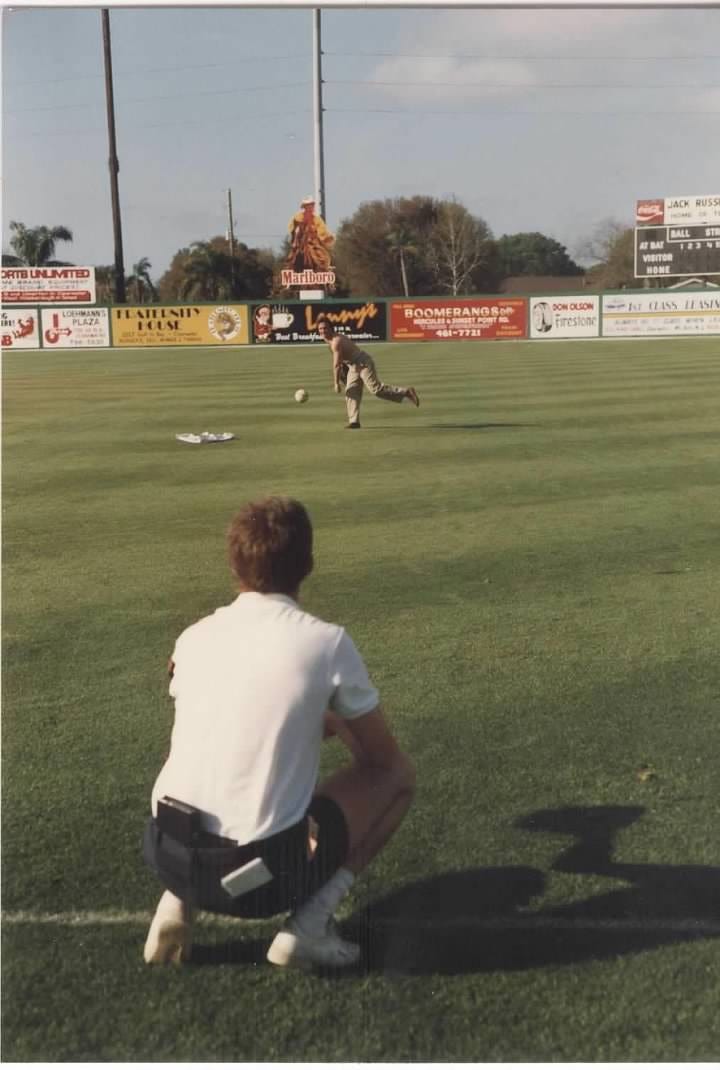 Tug pitching to me.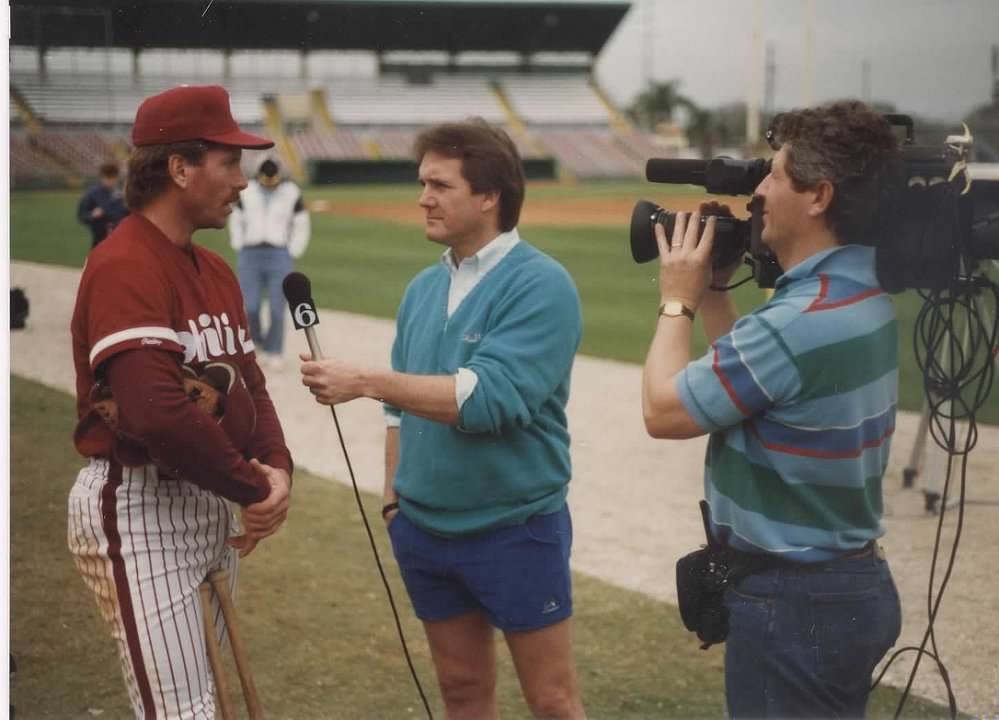 Mike Schmidt, Tug and Bob.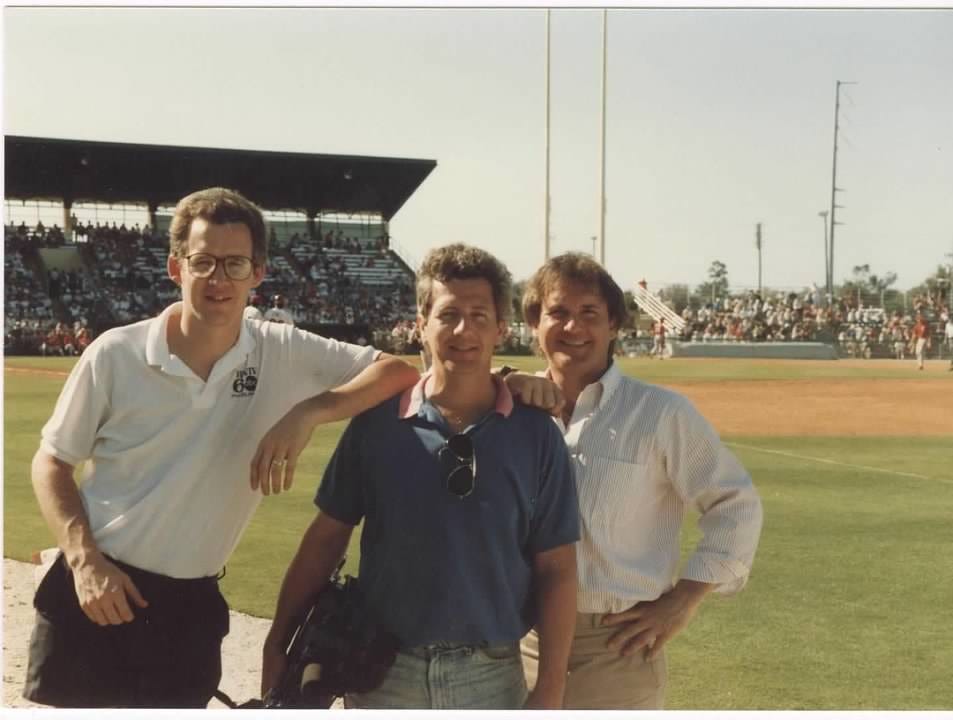 Me, Bob and Tug.
When the Phillies went to the World Series in 1993, I went with Tug to Toronto to cover the first 2 games.  It was on that trip that Tug gave me license to become a Phillies fan. "Go for it!," he said—which was easy with my family and me caught up in the fever of the 1993 World Series. I have never looked back.
3. CITIZENS BANK PARK, JUNE 27, 2019
Last year, I went to a Phillies-Mets game in Philadelphia with 3 friends from that local TV station, Ed, Dave and Tim.  We had such a good time that, as mentioned in Quiz #15. Old Dogs, in January, I organized a 2020 reunion for 30 Old Timers from that TV station. We still have a reservation for a suite.  June 10th. Against the Cubs.  The game, reunion and reservation, of course, now on hold. 
Phillies-Mets, June 27, 2019.
At that game last year, we sat in the Hall of Fame level, just to the third base side in a prime spot for foul balls. Several came into our section in the early innings, putting us all on high alert.  In about the fourth inning, a foul ball bounced back from the first row of our section, landing under an open seat, several seats to the left of me, in our row, 10 rows back. The seats next to me were empty—and instinct (and my core character flaws) took over. I dove across the concrete, ending up with a skinned and bloodied knee—and the ball. I grabbed it, much to the chagrin of the 10-year-old boy who was sitting in the row in front of us, right in front of the open seat under which the ball had come to rest.  He had turned around to try to pick it up, but I got there first. 
I saw the look of disappointment on his face.  I said to Tim and the people sitting behind us, "I have to give it to him--don't I?"  They all agreed that I should--and so I did.  It was the right thing to do, but it still felt bittersweet. (See "core character flaws" above.) My friends knew that I was disappointed, but we all agreed (except Ed) that I'd done the right thing. No question.  Why had I even asked?
A few innings later, the boy and his family left their seats. When the 7th inning stretch came around, I stood up and noticed that the boy had left the ball in a cup holder at his seat.  His family gone, I leaned down and picked up the ball at the start of the 8th inning, discussing the ethics with my friends.  If the family had left early, the kid might realize he'd left the ball behind at some point on the ride home—but we had no way of knowing how to track the family down. If, we reasoned, the kid wasn't going to have the ball, then we agreed that I should have it.  We goofed around and took some pictures of me with the ball--and my —wounded knee.  It felt poetic. I got credit for doing the right thing--but got the ball anyway.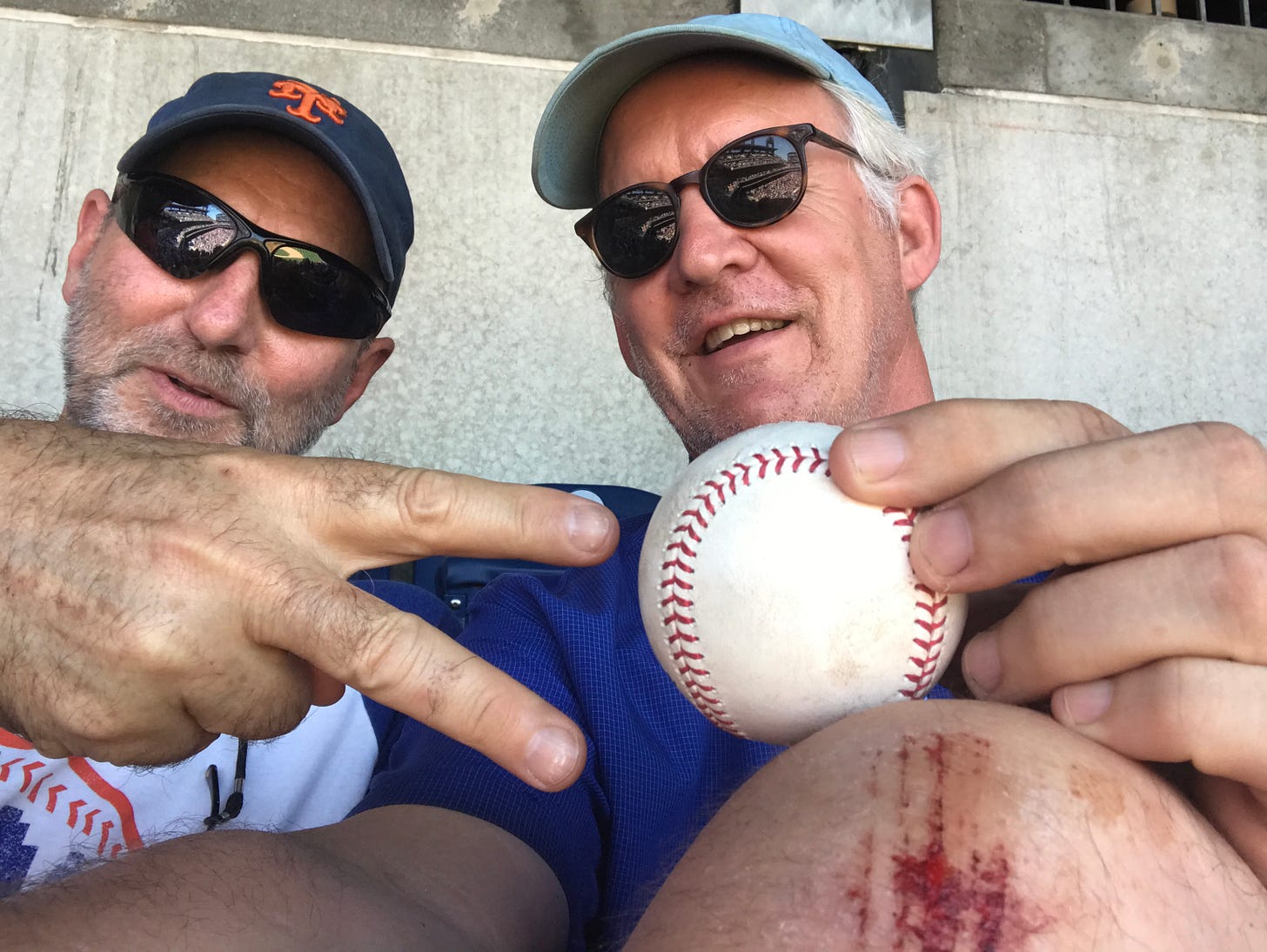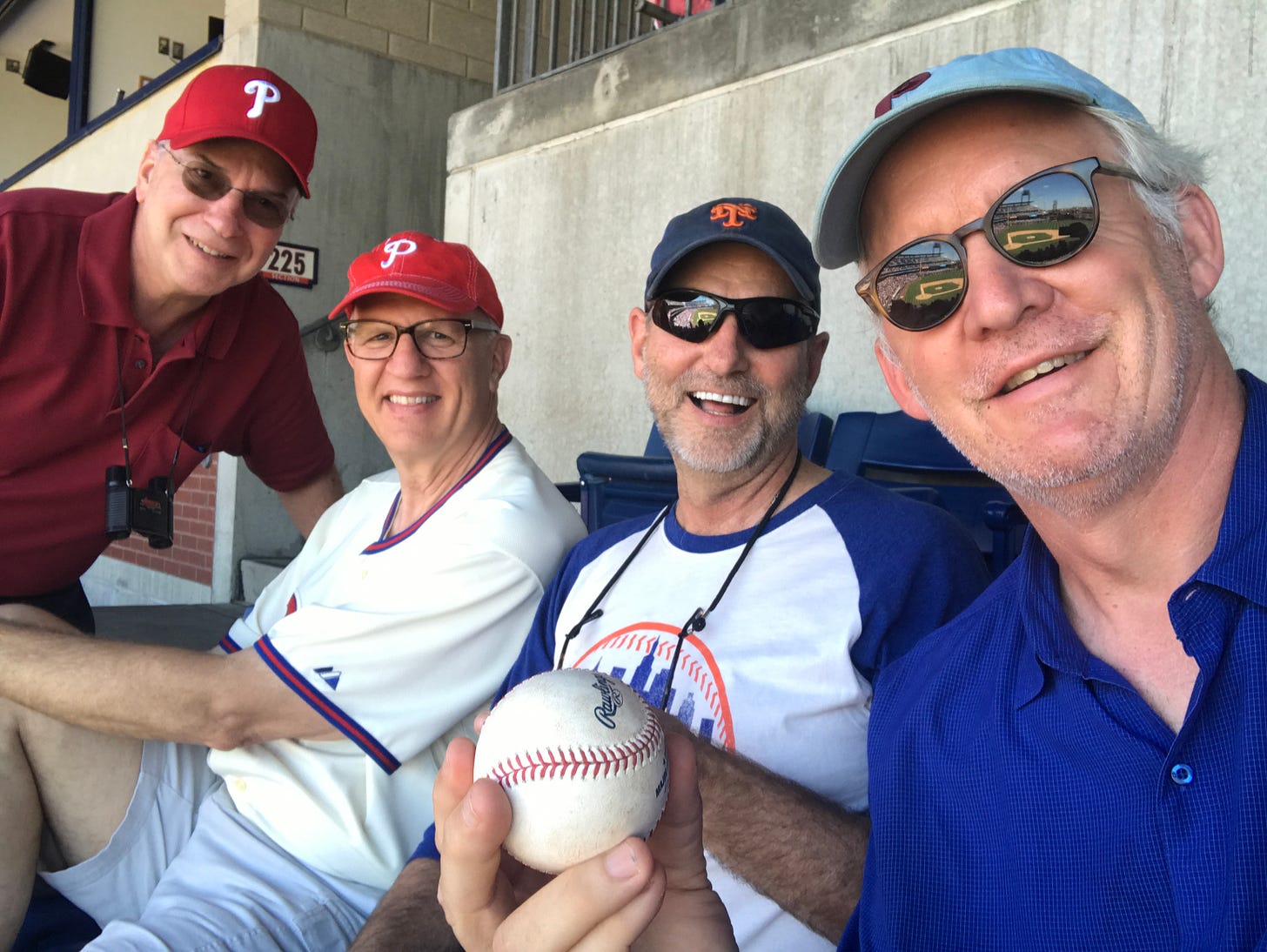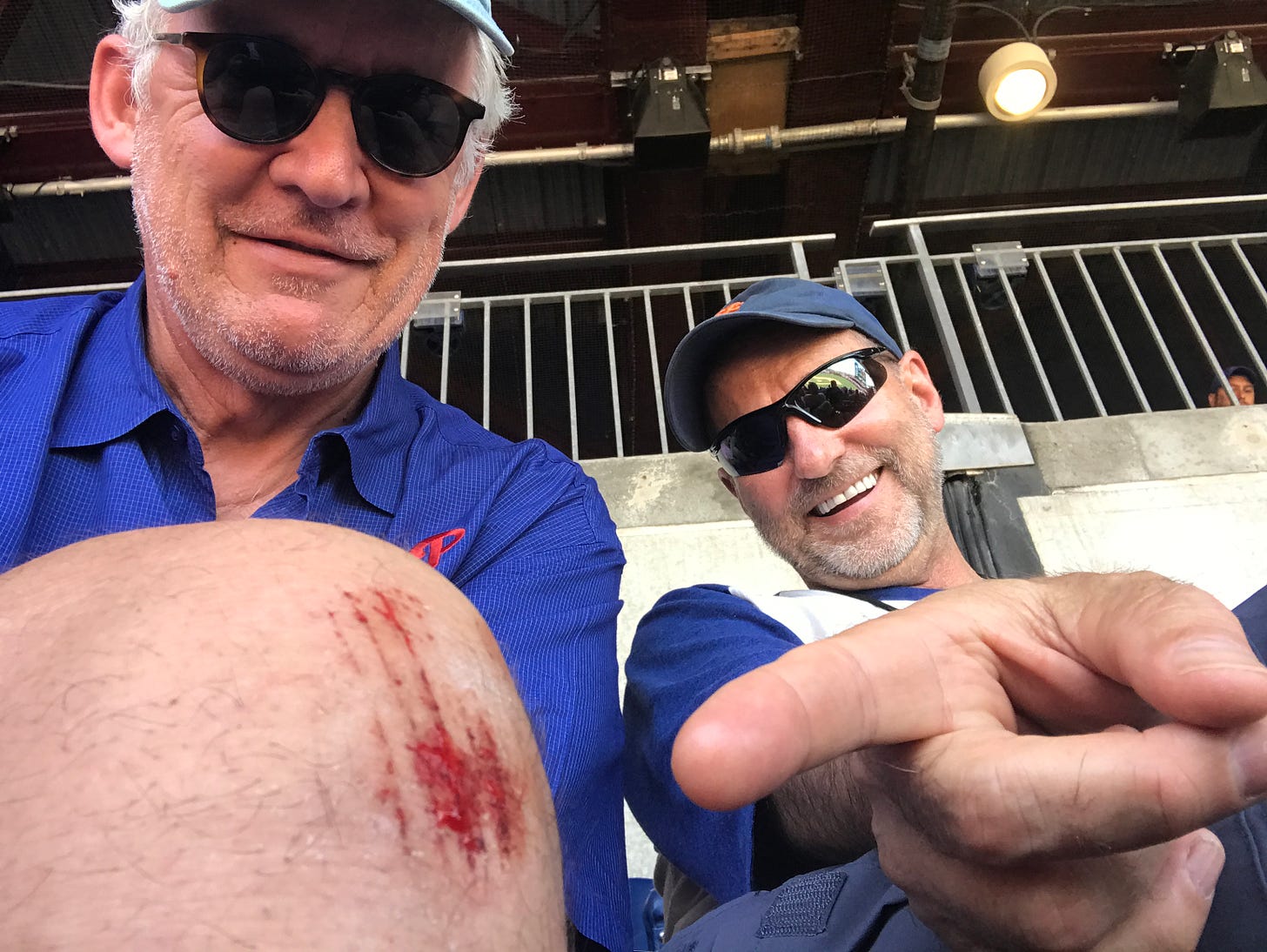 And yet, in the 9th inning, the boy and his family returned to their seats.  Right away, as he went to look for the ball in the cup holder, I gave it to him again.  The adult with him at the far end of the row, likely his grandfather, smiled at me and walked over to thank me for giving the ball to his boy. We shook hands. (Remember shaking hands?) So much for poetry.  At least I got the photos—and a good story to tell.
What do these stories have to do with the coronavirus?
Not much--except to say that I miss baseball.
Sitting and joking with friends.  
Trading banter--and a baseball--with baseball fans around you.
Diving for a ball.
Throwing a ball.
Catching a ball.
Watching batting practice.
Even a concert with screaming fans.
Just the idea of being out with a crowd.
Being 1 in 12,766.
---
What did NOT happen?
A. Roznovsky went to high school at St. Ludmilla's Academy in Shriner, Texas.  I called the school and spoke with a secretary.  She had no idea how to contact Roznovsky but said she'd pass my name and number around to people in the parish to see if anyone remembered the family;

B. In my phone call with Ginny, we talked about the health dangers of spitting outlined in Quiz #56. "The Friend."  She told me she's worried about the dangers of singing--which really spreads the virus.  Another loss--and she's an active choral singer;

C. In texts with Larry, I asked if he had any further thoughts on locating Stewart from Grotton, referenced in Quiz # 51. Is Your Father Named Stewart? He responded,

Haven't the foggiest who they are.  Wouldn't know where to start;

D. My high school friend, Tom, said in his 4-star review of Quiz #55 No Spitting, that he agreed with Ted.  Sports, and especially football, would be back.  (I still don't see how it happens once a player gets infected and his team needs to quarantine for 14 days.)  Tom wrote,

Good stuff, Steve. No bets, but I am leaning Ted's way on this. The NFL players' union is a pathetic joke, and the revenues from network TV contracts is a large enough percentage of revenue that you don't need live fans in seats. The Bundesliga soccer in Germany has resumed without spectators, though lots of tight personal contact. Aaron Rodgers will gripe, but he won't leave $30 million on the table;

E. During a video conference call with work on Thursday, I noticed that I still had some flour caked on the backside of my hand.  (I need to up my handwashing game.) I shared that I'd been baking bread and then sent my coworkers the Mark Bittman recipe for No Knead bread.
---
Want the answer?
If you're a subscriber, the answer will be sent to you as a separate email when the question is published.
---
Want more?
Here's the next quiz in the series: Quiz #58. "(except Ed)."
Here's the previous quiz in the series: Quiz #56. "The Friend."
Here's the first quiz in the series: Quiz #1. Stella and Social Distancing, March 13, 2020
Here is an archive of all the quizzes.
The quiz is explained here: Steve's Stay-at-Home Coronavirus Quiz.
---
Want to let me know how I'm doing with this quiz?
Please let me know about any typos or misspellings.
Comments, corrections and confessions welcome.
---
Thank you and good night.
Thanks for reading.
Thanks for sharing.
Thanks for commenting.