Quiz #58. "(except Ed)"
Being who you are--and were--on Memorial Day, 2020. Steve's Coronavirus Quiz for May 25, 2020.
Monday Morning, Memorial Day, May 25, 2020.
One day after the profound Sunday front page from the New York Times. A list of names and highlighted lines from the obituaries of 1,000 of the nearly 100,000 victims of coronavirus.
The New York Times front page on Sunday, May 24, 2020.
I could go on about how this New York Times front page impacted me, but if you've read Quiz #50. 63, you know that one of the lessons I have learned in life is "Know Your Audience."
So, if you're reading this silly quiz, you know that this is not the place for me to put Memorial Day in context. For that, read "Too Many Memorial Days," a New York Times Insider report from Navy-SEAL-turned-reporter John Ismay.
We can set aside a day for remembering, but the fuller story is that with thousands dead in wars the public pays little attention to, every day on the calendar is a Memorial Day for someone.
If you're reading this quiz, you also don't want to hear me go on about the historic significance of Sunday's New York Times front page. For that, read "The Project Behind a Front Page Full of Names," another Times Insider report, this one from John Grappe.
Simone Landon, assistant editor of the Graphics desk, wanted to represent the number in a way that conveyed both the vastness and the variety of lives lost.
Beyond the vastness and variety of lives lost, what's striking about the front page was how they chose to highlight a phrase or accomplishment which would not so much define those who had died, but tell each person's life story with a verbal picture. It's a way of remembering the dead for those who knew them--and bringing them to life for those who did not.
Here's just a sampling, as gathered by Axios.
Cornelia Ann Hunt, 87, Virginia Beach, her last words were "thank you"

Rita Paas, 88, Comstock Park, Mich., never missed "Wheel of Fortune," "Jeopardy" or "Lawrence Welk"

Lila A. Fenwick, 87, New York City, first black woman to graduate from Harvard Law School

Bobby Lee Barber, 84, Buckley, Wash., Seahawks season-ticket holder

Rhoda Hatch, 73, Chicago, first in her family to graduate college

Barbara Yazbeck Vethacke, 74, St. Clair Shores, Mich., she was known to many as Babs

June Beverly Hill, 85, Sacramento, no one made creamed potatoes or fried sweet corn the way she did
In this quiz, I cannot possibly speak to the vastness of the losses from this pandemic that we are seeing (or not seeing). In this quiz, all I can hope to do is help to celebrate the vibrant variety of the lives being lived all around us, each and every day. Even in these dark times. Especially in these dark times.
And so it is with "(except Ed)." Regular readers may recognize this as a phrase I used in Quiz #57. 1 in 12,766. In that quiz, I told three baseball stories--and one of them was about an outing to CItizens Bank Park in 2019 with 3 friends, Ed, Dave and Tim. I told the story about how I caught (grabbed) a foul ball and somewhat reluctantly gave it to a 10-year-old boy sitting nearby. I wrote, "We all agreed (except Ed)" that giving the ball to the kid was the right thing to do. Ed's son, Greg, emailed to let me know that "We all agreed (except Ed)" could be the title of Ed's memoir. A contrarian from way back, in a recent reunion Zoom, Ed wanted it known and on the record that he had been wiping down his work space and any shared phones with Clorox wipes for decades. "We all agreed (except Ed)" gives you a verbal picture of Ed.
Note Well:
Ed has challenged the accuracy of my recollections about the foul ball recounted here. He also noted that he used Lysol spray—and not Clorox wipes—to wipe down his work space and shared phones. I regret the error (and so much more). See Quiz #59. Foot Notes.
Ed, Dave, Tim and me with the foul ball I got, gave away, got back and gave away again.
Regular readers may also remember that in Quiz #13. OOO and Pure O, I described one of the problems Sara and I have had during the pandemic. I can't sleep late so I usually wake up several hours before Sara. When she comes down for coffee, I've been up for two hours--and am bothered by the world. While she's still half awake, I unburden myself. I'd written that I was working on dialing back my morning self and not being "Too Much." Like Greg, my daughter Annie observed that "Too Much" could be the title of my memoir.
It will be up to all of you, but when I am gone, that could be the phrase you use to paint my verbal picture. "Too much." Here are some other suggestions:
Loved to write 'What did NOT happen?' quizzes.

Spent the pandemic focused on making @jomboy homemade chocolate peanut-butter candies even though he admitted he didn't really like Reese's peanut butter cups.

A Mets fan turned Phillie phanatic, he once caught pitches from Tug McGraw.
On Sunday, I "attended" my third Zoom birthday party during the pandemic. This one was a "surprise" party for my sister Susan who celebrates her 65th birthday on Tuesday, May 26th. Each Sunday since the pandemic started, she's been playing some kind of board game with my sister Ginny, brother-in-law Larry and niece Kate. They play via video conference--and so this Sunday, I came up with a plan with Ginny for the surprise Zoom. Ginny told Sue that I wanted to join the game this Sunday. We were set to play online Scattergories at 4PM ET. I set it up on Zoom (which annoyed Sue because she does not like Zoom). I then sent the Zoom meeting information to other members of the family. I let them know they should join us at 4:05PM ET when I would "admit" them to the meeting and join what would become an online surprise party. When 4:05PM ET came, people started showing up and I admitted them, surprising Sue with her sons Kenyon and Seth, my step-mother Judy and my brother Richard and sister-in-law Julie. Sara also joined us along with Annie, Betsy, Ted (with daughters Turner and Marin), Erica (at work from the ICU) and, from California, nephew David, his wife Marci and their newly adopted dog, Jerry Garcia.
There were the usual technical difficulties. 96-year-old Judy could not figure out how to make Zoom work so she FaceTimed me and I held up my iPhone in front of my laptop with her on FaceTime so she could see and be part of the Zoom meeting. I recorded the party and sent the link to Sue. Because I'd been working with Judy on the technical issues, I'd missed some of the first few minutes of the party so I watched the recording myself after the party was over. What came through were the quirks and personalities of each person. My multiple pre-party reminders to party participants. The younger generation chastising the old for not knowing how to mute themselves. Ginny surprising everyone by playing a recording of "Runaround Sue" from her iPhone. Susan talking about how every boyfriend hated that song. Some people joining in song--others not. Me waving my phone with Judy's FaceTime face so it looked like she was dancing to the music. (Sue said it reminded her of "Mr. Bill.") It wasn't perfect--like all of us, getting together by Zoom is getting old--but the personalities of every family member were on full display in this 90-minute online party.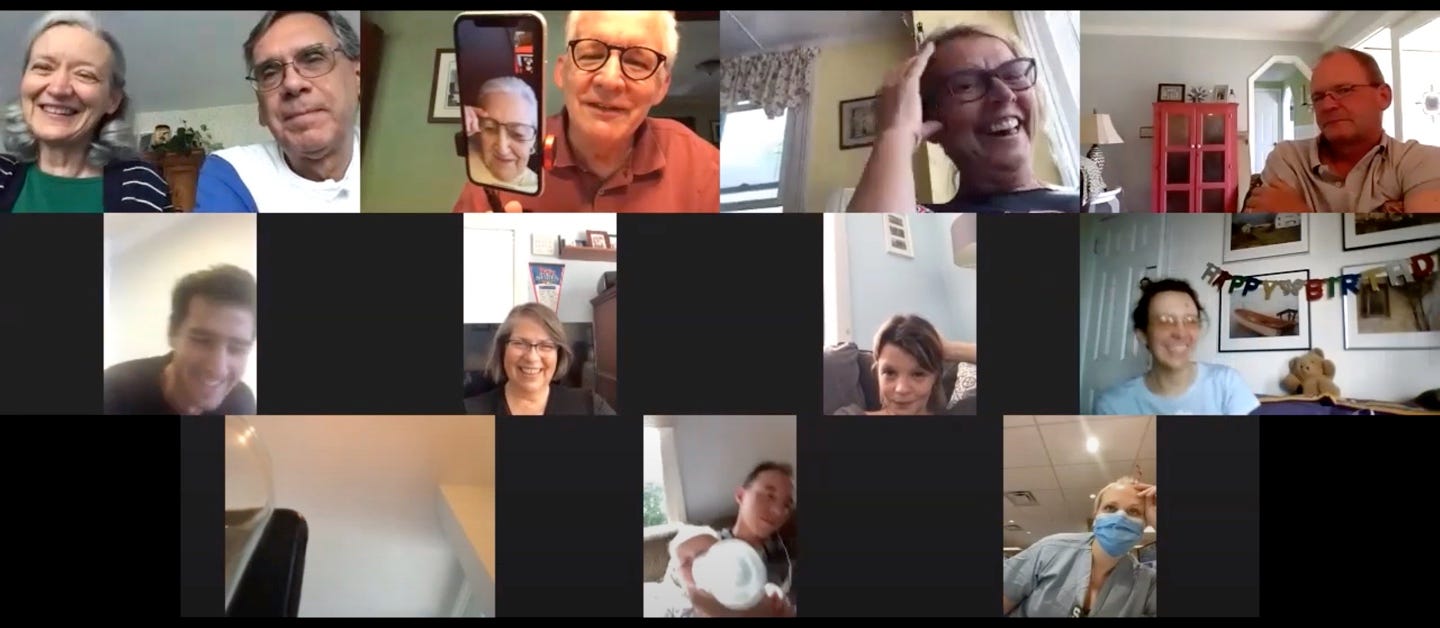 Sunday surprise birthday party for my sister Sue.
In any family, at any office, among any group of friends, we are who we are.
Strengths and weaknesses.
Endearing qualities and annoying quirks.
Adorable smiles and annoyed looks.
LOL and SMH.
As we walk down memory lane during these strange and difficult times when death is all around us, every time we say, "Remember the time when…" chances are we're remembering something about a person. A time when they were alive in all their glory--for good and, sometimes for bad.
If you know me--or have come to know me in reading these quizzes--if you read Quiz #57. 1 in 12,766, I suspect you are not surprised to know that I am now fixated on finding Vic Roznovsky, the catcher for the Cubs who wore #8 in 1965 and is seen behind me in the one picture I have of me at Shea Stadium, home of the New York Mets.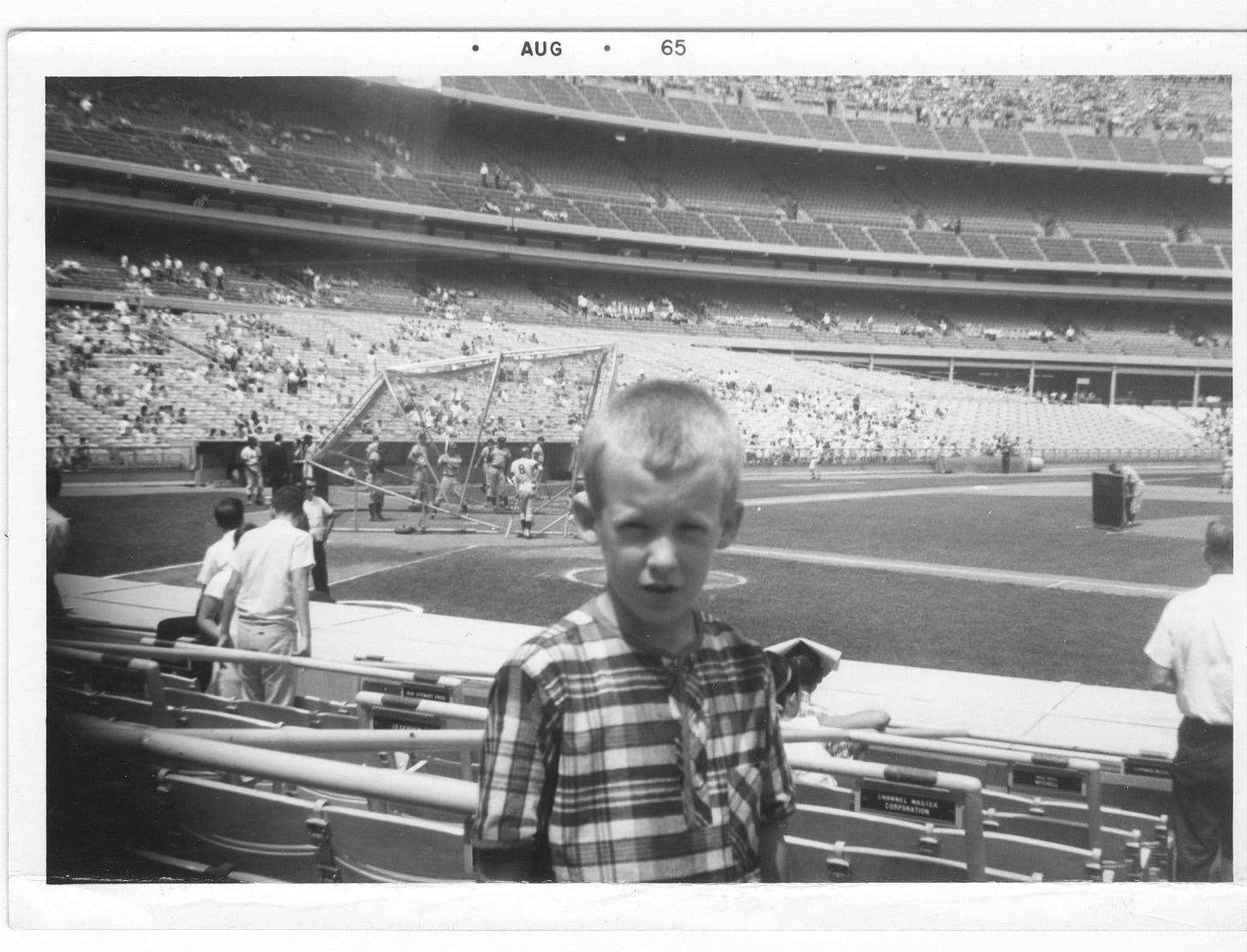 Me at Shea Stadium on August 7, 1965. (Susan remembered the shirt—distinct because it had no collar.)
Sadly, in my story about the foul ball, even though I gave it to the 10-year-old boy in the end, I also suspect you are not surprised to know that I was initially reluctant to give the foul ball to him--and had to ask my friends if it was the right thing to do. "We all agreed (except Ed)."
---
What did NOT happen?
A. In my email with Greg, he wrote, "I wonder what will happen to all the foul balls if they start playing in empty stadiums. I guess somebody will have to pick them up eventually;"

B. In texts with Larry, he pointed out that Tug McGraw actually pitched in the Cubs-Mets game that I saw on August 7, 1965. Twenty years later, Tug and I would work together.

C. A baseball historian, Larry also pointed out that Tug was the starting pitcher for the Mets later that month in a game that Larry attended. In that game, the Mets beat Sandy Koufax for the first time in their history. Koufax would go 17-2 against the Mets--and Tug was the starting pitcher for the Mets for both Met victories;

D. During the Zoom birthday party for Sue, she revealed that she and her friend had gone to the Beatles concert at Shea Stadium in 1966--one year after the August, 1965 picture and August, 1965 Beatles concert at Shea;

E. During the Zoom call, Richard and I talked about the inning we spent together in the stands during the 1986 World Series when the Mets beat the Red Sox in the famous Buckner game. Richard revealed that after leaving that game, he and another man were hit by a limo in the parking lot. Inside the limo was Dustin Hoffman.*
*Answer E. should indicate that Richard and Dustin Hoffman were hit by a limo that was backing up after the 1986 World Series game between the New Your Mets and Boston Red Sox. Hoffman was not in the limo. See Quiz #59. Foot Notes.
---
Want the answer?
If you're a subscriber, the answer will be sent to you as a separate email when the question is published.
---
Want more?
Here's the next quiz in the series: Quiz #59. Foot Notes.
Here's the previous quiz in the series: Quiz #57. 1 in 12,766.
Here's the first quiz in the series: Quiz #1. Stella and Social Distancing, March 13, 2020
Here is an archive of all the quizzes.
The quiz is explained here: Steve's Stay-at-Home Coronavirus Quiz.
---
Want to let me know how I'm doing with this quiz?
Please let me know about any typos or misspellings.
Comments, corrections and confessions welcome.
---
Thank you and good night.
Thanks for reading.
Thanks for sharing.
Thanks for commenting.
---